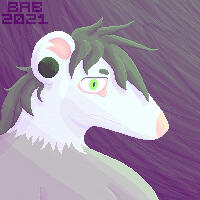 Bab's Hub
Hi! I'm Bab, a digital artist and author.
I mostly draw anthropomorphic animals, sci-fi things, and fantasy creatures.
I also like to write about the things I draw!

My pronouns are he/him, they/them, and ey/em.
Gallery
Here's some of my recent works!
Contact Me
Here's a bunch of platforms you can find (and contact) me at!
DONATIONS & MERCH
If you wanna support me and my work, check out these links!
COMMISSION ME
Please check out my Trello for prices and examples, and read my terms of service!

Once you have an idea of what you want, please email me or contact me through whatever platform you already know me through (like Discord, Telegram, Mastodon, etc.). You can also contact me for a free price quote and more examples.

I take commission payments through Paypal, Square, or Commiss.io.

I also accept: FlightRising Gems ($1 USD = 100 gems), Furcadia DragonScales (at full value), and Furcadia digos (valued by secondhand sales price, will be negotiated).