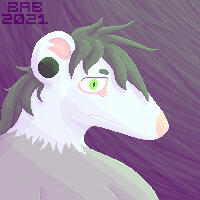 Babbage
Artist, Author, Worldbuilder
Hi! I'm Bab, a digital artist and author. I mostly draw anthropomorphic animals, sci-fi things, and fantasy creatures. I also like to write about the things I draw!

I'm trans masculine and nonbinary, grey aroace, polyamorous, and a gay bisexual. Specifically with neurodivergencies I am depressed, anxious, autistic, and plural.

My pronouns are he/him, they/them, ey/em, thon/thons, and hy/hym. Mix them up!

Be sure to check out my links below!
---
---
I am pro:
Abortion & bodily autonomy
ACAB / 1312
Bi / pan lesbians and gays
Black Lives Matter
Body positivity & fat
Consent
Content curation
Drug decriminalization
Fiction & shipping
He/him lesbians and she/her gays
Kink
Neopronouns
Neurodiversity
Non-binary people
Otherhearted, otherkin, therian, etc
Plurality
Pronouns as presentation, not gender
Trans Rights
Self-diagnosis
Sex work decriminalization
Slur reclaimation
Witchery

I am anti:
Ableism, racism, sexism, queermisia, etc
Alt-right, conservatism, fascism
Antis / fancops
Prison & mental hospital
Real-life rape, abuse, & murder
Real-life pedophilia, zoophilia, necrophilia, etc
---